Our Services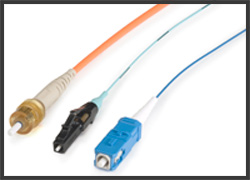 Com-Bell Systems provides experienced services for a variety of cabling and telecommunications needs including fiber optic and copper mediums. We offer our clients proven reliability and familiarity with the latest technologies available in our industry.
Information Technology Systems (Cabling)
Whatever the scope of your project, we have the right people and the right equipment to ensure that your infrastructure cabling is installed correctly and functions at optimum efficiency and speed.
The basic steps we take to implement an installation are:
Perform a site survey to determine customer requirements, site conditions, pathway requirements, outlet locations and equipment room configuration.
Provide the customer an estimate of the work requested.
After receiving purchase order, install pathways and equipment racks in equipment rooms (if possible).
Install cabling
Terminate cabling,
Label and test cabling,
Review project with customer and resolve any concerns.
Voice and Data Cabling
Category 3, Category 5e, Category 6 Cabling Systems
The network cabling in your organization carries voice transmissions and data in the form of electrical signals or pulses. The least expensive type of cabling utilized for this is UTP or Unshielded Twisted Pair. Due to the ever-increasing speeds of emerging protocols, it is very important that the cable selected will meet current and future requirements. For instance, while traditional voice communications will work well with category 3 cables, voice communications utilizing VoIP (Voice over Internet Protocol) will not. Data communications require cable that is manufactured under stringent guidelines. Since this type of cable is field terminated, it is imperative that the manufacturers procedures for installing and terminating are adhered to and that the Permanent Link (Patch Panel to Work Area Outlet) is tested. Using a Fluke DTX 1800, the cable can be certified in about 12 seconds. Some of the electrical properties of the cable include Wire-map, Near end cross-talk, Far end cross-talk, Insertion loss, Delay skew, Return Loss, Length and Resistance. If requested, the results can be sent to the manufacturer with a project registration form and the manufacturer will warrant the cabling and will support current and future protocols to work on that cabling system. If the project requires that patch cords be included in this warranty, they must be of the same manufacturer as the cable and tested as a complete Channel (a patch cord installed at each end of the Permanent Link). Call us to learn more.
Fiber Optic Cabling
Fiber optic cabling can also be used to carry voice, data and video communications throughout your organization. It is usually used for backbone cabling between main Equipment Rooms and floor serving or area serving Telecom Rooms. Recently it has become popular for use in Data Centers. There hasn't been much growth with regards to "Fiber to the Desktop" but there is in "Fiber to the Home" (FTTH) applications. Will your organization require multi mode or single mode fiber optic cable? If you don't have any distance requirements exceeding 300 meters, multi mode would be the most cost effective choice. If your organization occupies many buildings throughout a large campus, single mode should be considered. No matter the type of fiber used, enclosures should always be used to house the terminated fibers and to facilitate moves, adds and changes. The fiber should also be tested and the loss results should be below the budget calculated. Call us to learn more.
Paging and Public Address Systems
Com-Bell Systems provides and installs indoor and outdoor Paging and Public Address Systems that can stand alone or interface with your telephone system whether it be traditional or IP based. Call us to learn more.
Security, Access Control and Surveillance
Com-Bell Systems provides and installs Security, Access Control and Surveillance Systems.
Other Services
As a result of Com-Bell's long standing reputation in the industry, affiliations with Electrical Contractors, Audio/Visual Contractors, Security Contractors and System Integrators allow for "one stop shopping" for your information technology project.